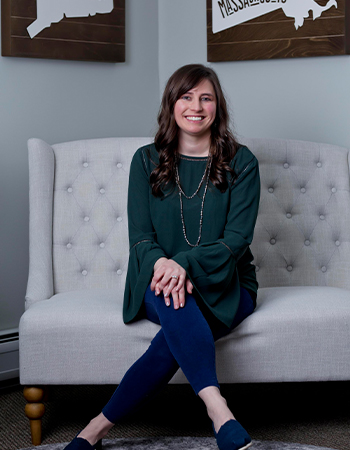 Building a relationship with the right real estate agent is paramount. I am very familiar with both MA & CT markets and I am eager to help others experience the joy of home ownership. I have always valued learning which is crucial when attempting to stay informed in the real estate industry, something that is constantly in flux. Relatedly, I hold a Bachelor's Degree in Finance and a Master's Degree in Business Administration from Western New England University, a background that has undoubtedly elevated my ability to handle the demands associated with buying & selling a home. Moreover, I've been in the industry since 2016 and continue to be a multi-million dollar producer. My goal is to take the pressures off of you whether you are purchasing real estate, selling real estate or both. Whether it be for a starter home, or your forever home, contact me today for all your real estate needs!
throughout this entire process. I am a first time homebuyer. She really went above and beyond, to give my wife and I a pleasant experience. She handled selling my wife's home and also buying our new home. She handled any bumps in the road, with complete competence, and eased any concerns we had. She helped us get way more than listed for the sale of the house, and the new house is a dream come true. She let us pick her brain throughout. If you want the house of your dreams, please reach out to Jaclyn. Best in the business in Western Massachusetts and Connecticut!
Jaclyn was incredible
and I sell our home and purchase a new home. Throughout the process, Jaclyn provided a comparable market analysis to ensure we sold our home for the right price, set up and advertised a successful open house, and provided an MLS filter specific to our needs. On top of that, Jaclyn was friendly to all parties involved including other realtors, sellers, attorneys, and even our moving company. We felt confident including Jaclyn in all necessary communications and interactions. She was quick to respond to our hundreds of questions and never missed a beat when an urgent email was sent to her. As for paperwork, Jaclyn was easily the most organized individual we know. From the very beginning, Jaclyn saved all required paperwork we needed and was able to retrieve anything we requested within a moment's notice. For example, when transferring our solar panels to the new owners, Jaclyn communicated with the various parties, sent us the required documents, and had all the signed documents ready at closing. Overall, it was a pleasure working with Jaclyn and we are happy we had her as our realtor.
Jaclyn helped my wife
with selling our home in Hampden, MA. She was very knowledgeable in giving us feedback on how to add value to our home prior to selling. Her communication skills with us as a seller and with the buyer's agent was outstanding. She is a pleasure to work with and will be a part of our family for years to come!
Jaclyn helped us from start to finish