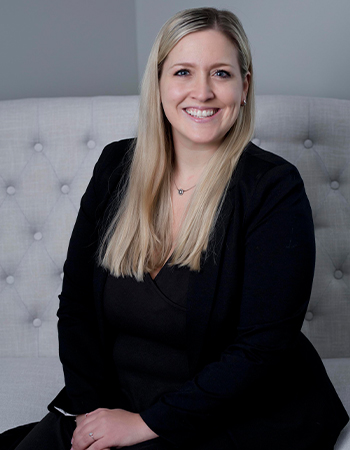 Nicole developed a passion for real estate at a young age: at just seven years old, she helped her father with his rental properties. Prior to becoming an agent, Nicole worked as a real estate paralegal for over ten years, equipping her with a well-rounded knowledge in the real estate industry. She prides herself on ensuring her clients have her utmost attention and providing complete guidance and explanation throughout the entire transaction. She works tirelessly for her clients to deliver exceptional service and results. Nicole is licensed in both Massachusetts and Connecticut. She holds a Master's degree in Business Administration from Western New England University. In her spare time, she enjoys hikes with her dogs, traveling, and spending time with her family.
Nicole is amazing at her job, she is dedicated and goes above an beyond for her clients. Without her I do not think we would have been able to purchase a home in such a tough market for buyers. She knew what we wanted and helped us find it, then she was extremely creative with our offer and help us be the winners! I would, and have, recommended Nicole to everyone I know that is buying or selling a home. She truly puts her entire heart into getting the job done.
Samantha G.
The entire house process can be a nightmare for sure but having Nicole made it one of the most enjoyable things in a crazy time to be looking to buy a home. The response times were always quick and every question was always answered thoroughly and with even extra info I was unaware of. Couldn't recommend a better realtor for anyone looking to buy.
Matt Z
I couldn't imagine going through the buying process without Nicole. She is extremely knowledgeable and helped us at every step, always giving us advice so we could make informed decisions. She is a realtor you can trust. Nicole works with integrity and pride, as she should because it is well deserved. I'd recommend her 100%.
Tiffany V.
By far, the smoothest experience I've ever had to deal with financially! From the beginning, I was hitting road block after road block, but Nicole remained that positive light we needed. Her expert recommendations, great knowledge of the entire process, networking relationships she has, negotiating power, and dedication to the job sets her apart from anybody. When I was told no, her recommendations to other problem solving resolutions were spot on. She will not let you down, and was there with me every step of the way in purchasing my first home for my family and I. From start to finish, she provided me daily updates, transparency, expert guidance and words could not express my gratitude further. Happy new homeowner :) !
I'm not even sure where to start with Nicole.